Simple & Free Kitchen Planning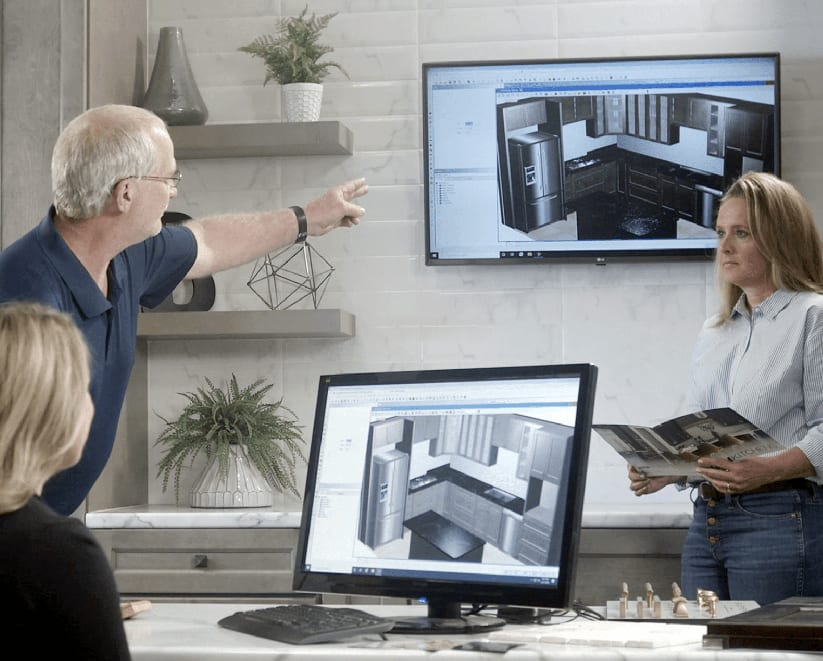 Contact us today about starting your kitchen project.
Receive an accurate, best price quote in a timely manner from our experienced designers. All from the comfort of your home!
A $375 Value!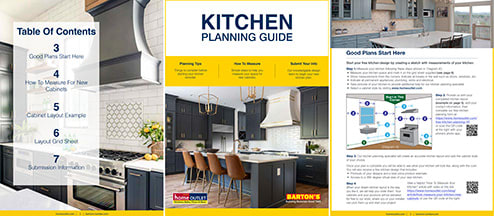 Free Kitchen Planning Guide

Includes a drawing grid and detailed instructions.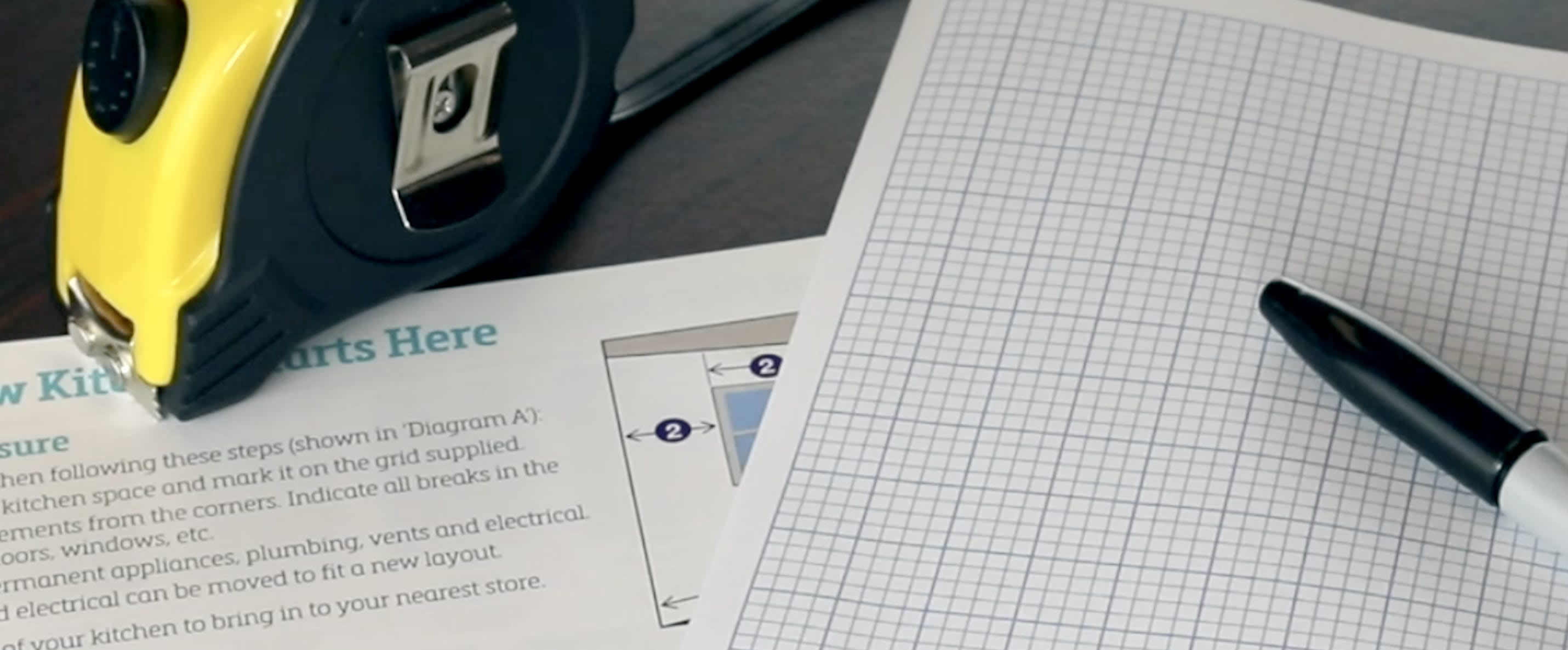 How-To Measure For New Cabinets

Includes a full article and instructional video.

If you prefer working with someone in-person, please use our Store Locator to find the store nearest you. Appointments are not necessary for walk-ins.
How the Free Kitchen Estimate Works: Kitchen design planning requires skill, knowledge, and expertise. You know what you want, and we help you bring it to life. We use the dimensions of your kitchen to figure out where and how everything should be placed. Your kitchen remodel free estimate is completely customized for your home. You can opt for an in-person appointment or receive an online quote and design — whatever works best for your schedule and lifestyle. We're here to help your kitchen dreams come to life! We make the kitchen remodeling and design process as easy as possible. Follow this guide to get started on your dream kitchen. 

Submit Your Kitchen Measurements: The first step in the kitchen renovation estimate is submitting your kitchen measurements online. We provide a free kitchen planner estimate with a highly realistic 3D design. 
Make sure you include usable cabinet space in your measurements. These measurements give us a more accurate picture of the space you'll be working with. Our measurement guides have specific instructions on how to include these measurements in your total figures. 

Receive Personalized Product Suggestions: Based on your kitchen's measurements and layout, we suggest materials and fixtures. We help you pick the best products for your kitchen remodel. Each suggestion is based on your design preferences and budget. 
We never suggest anything you don't need or want. Your kitchen belongs to you, and we want you to have the best possible experience!

Free Unlimited Edits and Revisions: One of the best features of our free kitchen design is that you can change and edit your desired designs as many times as you want — for free.

Get Guidance on the Kitchen Remodeling Process: Our free kitchen design planning services provide guidance on measurements, installation, and other gritty details of kitchen remodeling. We know that customers want the important information first, and we can give you that.
High-Value Design and Remodeling Services for Free: Our kitchen design services are valued at $375, but we offer them for free. We believe in helping you curate your dream kitchen, and we don't want price to be a barrier for you. Instead of draining your wallet with kitchen estimates and design models, choose Home Outlet's free services!

Fast Design Turnaround Times: 48 Hours or Less! We can typically provide our free kitchen estimates in less than 48 hours after we receive your measurements. This time can vary, but our customers are our top priority. We want to get you started on your kitchen remodeling journey as soon as possible. If you choose to visit us at one of our in-store locations, you don't need an appointment. We take walk-ins for our free kitchen design estimates. Renovating your kitchen space has never been easier (or cheaper) than it is with Home Outlet!

Start Your Kitchen Design Today: To get started with Home Outlet's free kitchen planner services, you must first submit your kitchen measurements online. If you come into an in-store location, make sure you bring your measurements with you to share with one of our associates. Our online measurement guide gives you tips and tricks for obtaining the most accurate kitchen measurements possible. We break it down and make it easy for any homeowner to understand. These measurements are key for getting the most accurate kitchen design. 

Work with Our Skilled Professional Design Teams: At Home Outlet, we have professional design teams that work tirelessly to make your kitchen goals a reality. Our teams have years of experience and are brilliant minds in the world of kitchen design. You can trust that your free estimate is accurate and matches your expectations.

Customized Plans for Your Budget and Preferences: We customize every kitchen design plan for you and your family. We don't make you go over your budget; we understand you have expenses to cover. 
Instead, we work with your budget and design preferences to customize your kitchen planning process. It has never been easier to stay on track financially with kitchen remodeling!

Free Kitchen Estimates to Save Money on Remodeling: At other places, you may have to pay high premiums just to get quotes, estimates, or beginner-level designs for your kitchen. Our free kitchen remodeling designs incorporate all your best ideas at no charge. 
We believe home renovation and improvement should be fun, enjoyable, and realistic. That's why we offer free kitchen estimates – so you don't have to take on an expensive project alone. Remodeling your kitchen can be one of the best projects you ever take on. Let us take the lead as you start. 
On-site Measuring Services Are Not Available