Kitchen Remodel Essentials
KITCHEN REMODEL ESSENTIALS
Current designs. Expected value. Endless inspiration.
Shop Our Kitchen Remodel Products by Category
Have you noticed that guests often gather in the kitchen? Your kitchen acts as the heart of your home. It's where delicious meals are cooked and shared, you kiss your spouse goodbye on their way out the door, and you enjoy time as a family in the evenings. When planning your kitchen home improvement, you'll need many things to create a peaceful yet productive space. Home Outlet understands because we want the same for our families. That's why we aim to be your number-one building supply store.
Kitchen Cabinets For Sale | What kind of kitchen cabinets have you been searching for? At Home Outlet, our kitchen design team can help you find the cabinetry of your dreams, whether that is a full set from an established brand, ready-to-assemble styles your DIY gene craves, distressed wood for your rustic aesthetic, or classic white paint finishes for something a little more classic.
Shop across our available faucet lines, including Delta, for the perfect fit for your personal style.
Raised panel, flat-panel, shaker style, and more. Shop our lines for your prefect fit.
Match existing cabinets? Love the features available in a specific line? Shop our brand lines.
Give everything in your kitchen a space. Declutter with these cabinet organizer options.
Available in select locations, Fabuwood cabinets are balance of style, selection, and price.
Made in the USA. Exceptional cabinetry combines style, design, quality, and craftsmanship.
Butcher Block Countertops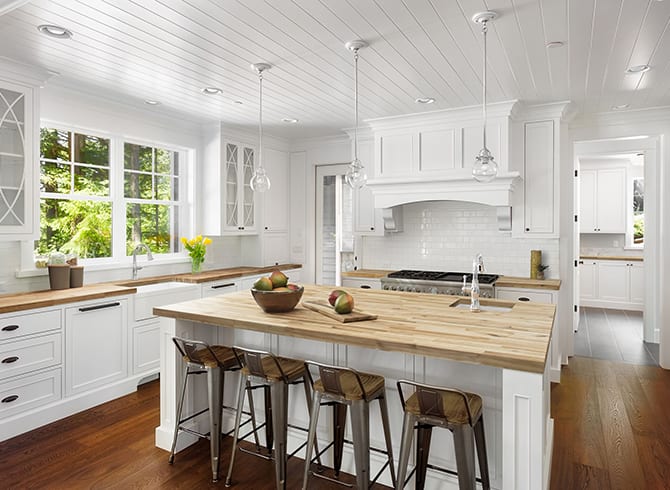 Sustainable Butcher Block
In-stock in all locations! The warmth and natural beauty of our real wood countertops and backsplashes are the natural choice for your home. Both are available in your choice of two wood offerings—Hevea and Acacia. What's more, these countertops come unfinished, giving you more flexibility to match any design aesthetic with your finish selection.
FREE PLANNING & DESIGN FROM THE COMFORT OF YOUR HOME
Our Experienced Design Team Can Help
Already have your room measurements and photos?
Submit your measurements, room photos, and preferred cabinet styles to schedule a session with our experienced Kitchen & Bath designers.
• Have a quote from someone else? Include it with your submission.
• Our design team will confirm details with you and provide a complete 3D layout and materials quote.
*On site measuring and installation is not available.
Don't Have Your Measurements Yet?
Getting your kitchen measurements is easier than you might think! All you need is a pen/pencil and a tape measure. In justa few minutes, you'll be able to record all the information our Online Design Team needs to provide your free estimate and 3D Design!
Our kitchen cabinets are all fantastic choices for the homeowner who is ready to make a big change to their kitchen's look and feel. If you're doing a kitchen renovation, you'll love our top-notch kitchen hardware and kitchen sinks and faucets. The hardware is as important as the cabinets themselves, and we have plenty of hinges, knobs, and pulls available to customize your build. We also have a wide selection of sustainable cabinets available that are built with environmentally friendly materials.
Additionally, one of the best ways to add instant appeal and value to your home is to upgrade your kitchen countertops. Home Outlet's vast selection of countertops makes shopping for your ideal fit a snap. 
Our inventory boasts everything from granite countertops to butcher block countertops. With various materials, styles, colors, and price points, we guarantee you'll find something you'll fall in love with. We are the one-stop shop for all of your kitchen home improvement needs.
Start Your Kitchen Renovation Today
Home Outlet has everything you need to make your kitchen remodel an incredibly smooth experience. Browse our unique wares for yourself and see why everyone calls Home Outlet the DIYer's dream store! 
There's always room for improvement, and we encourage you to follow those dreams and start building a kitchen you'll love with some help from our high-quality products.